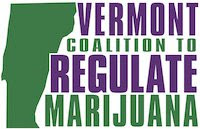 Vermont Coalition to Regulate Marijuana to Launch Television Ad Campaign Featuring State's Former Top Law Enforcement Official
In the ad, a former Vermont attorney general compares current marijuana prohibition laws to the 'disaster' of alcohol prohibition; he notes that 'most Vermonters support a more sensible approach' and urges them to contact their state senators — who are currently examining the issue— and tell them, 'It's time to end prohibition and start regulating marijuana in Vermont' 
The ad — viewable online at https://youtu.be/Fk45yWMjtRc — will begin airing statewide Tuesday and run through the end of the week on WCAX, CNN, Fox News Channel, and MSNBC
MONTPELIER — A new television ad featuring Vermont's former top law enforcement official speaking out in support of regulating marijuana will begin airing statewide on Tuesday, just as lawmakers are taking a close look at the issue. The ad — viewable online at https://youtu.be/Fk45yWMjtRc — will appear on WCAX, CNN, Fox News Channel, and MSNBC through Sunday.
In the ad, titled "Time to End Prohibition (Again)"), former Vermont Attorney General Kimberly Cheney draws a comparison between current marijuana prohibition laws and the failed policy of alcohol prohibition.
"We all know that prohibition was a disaster," Cheney says as images from the era of alcohol prohibition appear on the screen. "It forced alcohol into the underground market, where it was controlled by criminals, and consumers did not know what they were getting. It made us a nation of hypocrites and lawbreakers.
"Marijuana prohibition has caused a lot of the same problems," according to Cheney. "That's why most Vermonters agree it's time for a more sensible approach," he says, referencing a September Castleton Polling Institute poll that found 56% of Vermonters support — and only 34% oppose — legalizing and regulating marijuana for adult use.
The ad ends with Cheney urging viewers to contact their state senators and tell them, "It's time to end prohibition and start regulating marijuana in Vermont."
"Mr. Cheney decided to appear in this ad for the same reason he served as the state's top law enforcement official," said Matt Simon, the Montpelier-based New England political director for the Marijuana Policy Project, which produced the ad on behalf of the Vermont Coalition to Regulate Marijuana. "He cares strongly about the safety and wellbeing of Vermont citizens.
"There are a lot of current and former law enforcement officials out there who support ending prohibition and regulating marijuana," Simon said. "It's important that citizens and lawmakers hear from them."
During a Thursday hearing before the Senate Committee on Judiciary, Windham County Sheriff Keith Clark expressed support for ending marijuana prohibition and replacing it with a "more controlled and regulated system."
"By eliminating the prohibition on marijuana and the need to utilize funding for enforcing a failed policy, we as a state can focus on what is important," he said.
# # #
The Vermont Coalition to Regulate Marijuana is a broad coalition of citizens, organizations, and businesses working to end marijuana prohibition in Vermont and replace it with a system in which marijuana is regulated and taxed. For more information, visit http://www.RegulateVermont.org.