Legislature in session; medical marijuana program launched
Last update: March 23, 2016
Minnesota is in the second half of a two-year legislative session. The first half of the 2015-2016 session brought about some slight changes to the restrictive medical marijuana program enacted in May 2014. While most of the changes were technical, one provision sped up the timeframe regarding when the health department could add intractable pain as a qualifying condition. As a result, by July 2016, patients suffering from this condition will be eligible to register for the program. Lawmakers have filed several bills seeking further reforms to the program. Be sure to sign up for our Minnesota-specific action alerts to stay up to date on marijuana policy reform in the Land of 10,000 Lakes.
Meanwhile, the state has been among the quickest to fully implement a comprehensive medical marijuana program. Currently, three dispensaries are open in the state with five more scheduled to open later this spring. Minnesotans with qualifying conditions who are interested in enrolling in the program, and healthcare practitioners who are interested in certifying some of their qualified patients, should contact the Minnesota Department of Health for details. Unfortunately, there have been reports that the program has resulted in costly medicine and difficult access. Hopefully these issues will be addressed as the program continues to take root; if not, we will seek legislative changes.
---
Statewide television ad campaign highlights the need for medical cannabis in Minnesota
On April 2, 2014, MPP and Minnesotans for Compassionate Care began running television commercials across the state highlighting just one of many Minnesotans, and his mother, who could benefit from passage of a compassionate law. You can watch the ad here.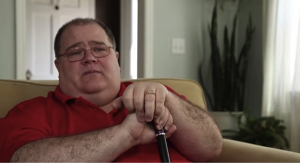 On April 8, 2014, we began airing a second ad featuring Patrick McClellan (above), who has found that medical cannabis alleviates his debilitating spasms far more safely and consistently than prescription medications. The ads helped force the governor to allow a medical marijuana bill through — though it was more limited than we would have liked. It has resulted in a limited but successful medical marijuana program, which has already been expanded to include intractable pain. Yet, many patients still have to travel great distances to access medical cannabis, whole plant cannabis is not allowed, and other patients are left behind completely due to their conditions being excluded
Please email your lawmakers regarding their support — or lack thereof — of Minnesota's medical cannabis law and encourage them to continue to help protecting all the suffering who can benefit from medical cannabis.
---
Learn about Minnesota's marijuana laws
In 2012, there were 12,051 marijuana-related arrests in Minnesota. Sixty-two percent of these arrests were for marijuana possession. While the penalty for a first offense of possessing a small amount of marijuana in Minnesota is a $200 fine and mandatory drug education, having two ounces could land Minnesotans in jail for five years! These arrests hit minority communities the hardest. According to data from the ACLU, African Americans in Minnesota are nearly eight times as likely to be arrested for marijuana possession as their white neighbors!
Ask your lawmakers to remove penalties for adults who choose to use, possess, or purchase marijuana and to create a system that regulates and taxes the production and distribution of marijuana similarly to alcohol. You can learn more about Minnesota's marijuana penalties and enforcement by reading this report by Jon Gettman, Ph.D.