Legalization law now in effect! 
Last update: July 1, 2018
On January 22, 2018, Gov. Phil Scott signed H. 511, a bill legalizing possession and limited cultivation of marijuana by adults 21 and older. The bill received final passage in the House on January 4 and in the Senate on January 10, 2018. It took effect on July 1. Although eight other states have legalized marijuana by ballot initiative, this is the first time any state legislature has ended marijuana prohibition through the legislative process rather than by a vote of the people!
Click here to read a summary of the law.
Now that the law is in effect, advocates will continue the push for a sensibly regulated system for marijuana production and sale. A study commission on marijuana legalization and regulation has been meeting since early fall, pursuant to an executive order the governor signed on September 7, 2017. The commission includes three subcommittees, which are tasked with looking at one of three specific issue areas: roadway safety, education and prevention, and taxation and regulation.
We are very grateful to our allies in the legislature for their votes in support of ending marijuana prohibition, and we'd especially like to thank Laura Subin, the Necrason Group, and all our allies at the Vermont Coalition to Regulate Marijuana for their hard work.
If you live in Vermont, please click here to get involved with the Vermont Coalition to Regulate Marijuana.
---
Gov. Scott signs bill to expand access for patients!
On June 8, 2017, Gov. Phil Scott signed S. 16, a bill that will significantly improve patients' access to Vermont's medical marijuana program. The bill adds post-traumatic stress disorder (PTSD), Parkinson's disease, and Crohn's disease to the list of qualifying conditions. It also authorizes an additional dispensary (bringing the statewide total to five), and it allows existing dispensaries to open one additional location each. When the patient registry reaches 7,000, a sixth dispensary (which can also have a second location) will be authorized.
You can read a complete summary of the bill here.
In 2016, the Vermont Legislature and then-Gov. Peter Shumlin agreed to improve the medical marijuana law by passing S. 14, an MPP-supported bill that enables patients with glaucoma or chronic pain to qualify for the program. (Previously, the standard was "severe pain" — a much higher standard than "chronic pain.") The new law also reduced the required minimum provider-patient relationship period from six months to three months and included other small, yet positive, changes.
In 2014, MPP worked with the legislature to expand Vermont's law so more patients can benefit from safe, legal access. S. 247, sponsored by Sen. Jeanette White (D-Windham), passed the House and Senate and was signed by Gov. Shumlin May 27. This change in law eliminated the cap of 1,000 patients who were allowed to access dispensaries. It also allowed naturopaths to certify patients, allowed dispensaries to deliver marijuana to patients, and called for a study of the potential impacts of legalization and regulation. To view the rules for the Vermont Marijuana Program (VMP), please visit the Vermont Criminal Information Center website.
---
Vermont decriminalizes marijuana possession
On June 6, 2013, then-Gov. Peter Shumlin signed H. 200, which eliminated the state's criminal penalties for possessing small amounts of marijuana and replaced them with civil fines. This was a major victory for MPP and its legislative allies in Montpelier, who worked hard to build support for this sensible reform. Leading law enforcement officials, including then-Attorney General William Sorrell and then-Public Safety Commissioner Keith Flynn, supported the bill, which went into effect July 1, 2013.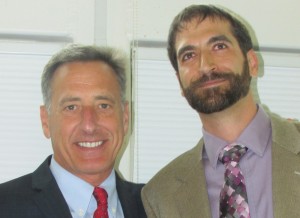 MPP's New England Political Director Matt Simon and Gov. Peter Shumlin at the signing ceremony for H. 200.
Click here for details on how H. 200 changed Vermont's penalty structure.
As a result of this reform, Vermont police and prosecutors now waste less time and taxpayer money on enforcing laws against marijuana possession. Individuals caught possessing an ounce or less of marijuana in the Green Mountain State are now fined but do not receive a criminal conviction. Those under 21 are now generally sent to diversion.
---
Stay connected
To stay updated on the status of marijuana policy reform in Vermont, be sure to subscribe to MPP's free legislative alert service.