Texas rolling out new medical marijuana program – but can anyone participate?
Last update: September 18, 2017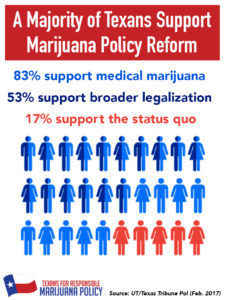 Texas is now selecting companies to operate medical cannabis businesses in the state. A total of three are expected, each serving as cultivator, processor, and dispensary for those patients in Texas who qualify. So far, the state has identified the first such licensee, with other announcements expected soon.
Unfortunately, it remains questionable whether the system will be functional. Only about 410 doctors in the entire state have the needed credentials to participate under state requirements, and those that do must go through training and register with regulators. More troubling, state law requires doctors to "prescribe" medical cannabis, rather than simply recommend it, which is illegal under federal law. And finally, only those who suffer from serious seizure conditions may participate, leaving behind a huge number of others who could benefit, such as cancer patients, those suffering from PTSD, and many others.
So far, efforts to amend the law to avoid problems for doctors and improve the program in other modest ways have not been successful. After years of promises by some state lawmakers, the state may simply fail to deliver. Stay tuned as the program continues to roll out. For the very latest, visit the website of Texans for Responsible Marijuana Policy.
---
Get involved with Texans for Responsible Marijuana Policy
MPP is in the midst of a multi-year legislative campaign in Texas to improve state laws related to marijuana. We're working in concert with like-minded groups to reduce criminal penalties for possession and to establish a comprehensive medical marijuana program that doesn't leave many seriously ill patients behind. Please visit TexasMarijuanaPolicy.org to get involved with the coalition — Texans for Responsible Marijuana Policy.

Please also subscribe to our free email alerts to stay up to date on the status of marijuana policy reform in Texas. If you are a current or former law enforcement official, patient, medical professional, or clergy member, please email us to learn how you can get involved.
Find us on social media and help us spread the word to your network!
---
Learn more 
Overview of Texas' Low-THC Medical Cannabis Program