Clock runs out on key marijuana policy changes, but lawmakers are increasingly supportive
Last update: May 30, 2017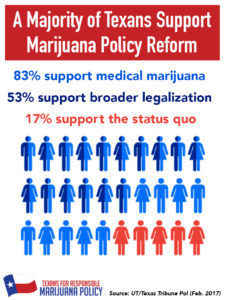 Lawmakers in Texas are increasingly supportive of significant change to marijuana policy, gradually catching up to voters. This year, that support was stronger than ever. Unfortunately, time ran out before votes could be taken on two key pieces of legislation, and they will not advance further in 2017.
First, Joe Moody's bill, HB 81, was aimed at reducing penalties for low-level possession to a civil violation – and avoiding arrest, jail time, prison, loss of driving privileges, and a harmful criminal record. The bill was successfully voted out of committee in the House but did not get a vote in the entire House before a key deadline. Another bill, HB 2107, sponsored by Rep. Eddie Lucio III, would have sidestepped many of the problems contained in the current Compassionate Use Program, including unrealistic standards for doctors (who must "prescribe" cannabis) and patients (who are limited only to some types of seizure conditions). A majority of House members signed on as supporters of the bill, but as with the decriminalization bill, HB 2107 did not get a vote on the House floor before the deadline.
While disappointing, both lawmakers and advocates made huge strides this year gathering long-term support essential to passing legislation. We are getting closer, and we won't let up the pressure until Texas has an inclusive medical cannabis law and stops criminalizing marijuana consumers. Onward!
---
Get involved with Texans for Responsible Marijuana Policy
MPP is in the midst of a multi-year legislative campaign in Texas to improve state laws related to marijuana. We're working in concert with like-minded groups to reduce criminal penalties for possession and to establish a comprehensive medical marijuana program that doesn't leave many seriously ill patients behind. Please visit TexasMarijuanaPolicy.org to get involved with the coalition — Texans for Responsible Marijuana Policy.

Please also subscribe to our free email alerts to stay up to date on the status of marijuana policy reform in Texas. If you are a current or former law enforcement official, patient, medical professional, or clergy member, please email us to learn how you can get involved.
Find us on social media and help us spread the word to your network!
---
Learn more 
Overview of Texas' Low-THC Medical Cannabis Program