Marijuana law reform has reached Texas!
Last update: November 10, 2016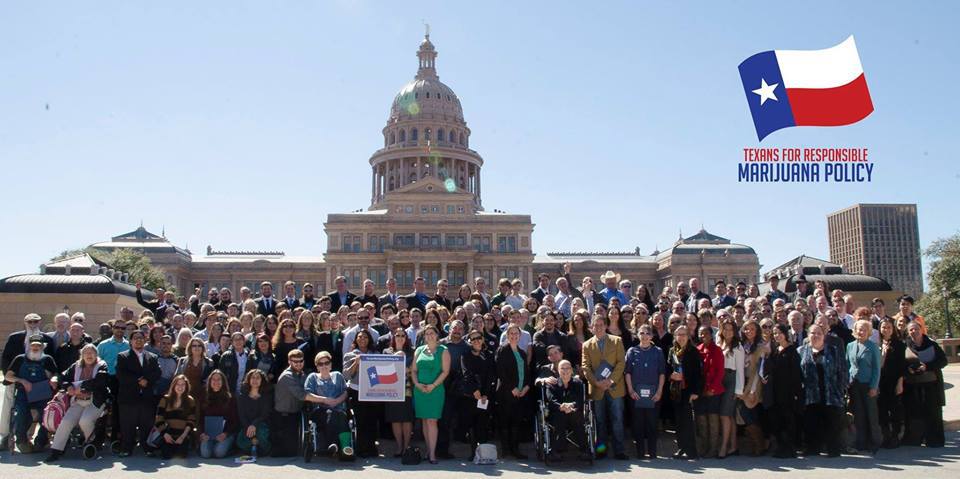 Marijuana policy in the 84th Texas legislative session
The 84th Texas legislative session was historic in the movement to improve marijuana laws in the Lone Star State. All told, there were five bills that would have reduced penalties for possession of marijuana, one of which would have completely legalized access for adults. In addition, there were four bills to provide legal access to medical marijuana. A very limited medical marijuana bill — now the Compassionate Use Program — was signed into law, but is unlikely to function without significant changes. Nonetheless, it is a strong sign that the state legislature recognizes the medical benefits of marijuana for seriously ill patients. A summary of the law is available here.
We are currently working to draft and earn support for a bill to be introduced next year that will make the Compassionate Use Program more inclusive. Currently, most patients are left behind. Our goal is to make the program more inclusive by:
allowing access for patients suffering from other debilitating conditions;

lifting the cap on THC, given its therapeutic value for so many patients; and

fixing the flawed language from last year's bill that unnecessarily puts participating doctors at risk. Under the current law, doctors would have to "prescribe" cannabis, rather than "recommend" it, which is how all workable programs operate throughout the country.

(

More on that here.

)
To support inclusive access to medical marijuana for patients suffering from debilitating conditions, please contact your state representative and senator.
Meanwhile, Rep. Joe Moody previously proposed a key bill, which would have replaced criminal penalties for possession of up to an ounce of marijuana with a civil fine of up to $250. Despite a powerful hearing in support of this sensible bill, HB 507, it fell short when time ran out at the end of the session. The bill would have allowed individuals to avoid arrest, possible jail time, and the stigma of a criminal conviction for possessing a small amount of marijuana. We expect a similar bill will be introduced during the next session in 2017.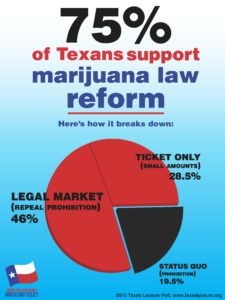 According to a June 2015 poll conducted by the University of Texas and Texas Tribune, 68% of Texans support our efforts to reduce penalties for low-level marijuana possession. A more recent poll conducted by Texas Lyceum found that less than 20% of Texas voters still support prohibition. Most Texans favor marijuana policy reform!
Please take a moment to reach out to your representative and senator in support of removing harsh criminal penalties for those who choose a substance that is safer than alcohol.
---
Get involved with Texans for Responsible Marijuana Policy
MPP has begun a multi-year legislative campaign in Texas to improve state laws related to marijuana. We're working in concert with like-minded groups to reduce criminal penalties for possession and to establish a comprehensive medical marijuana program that doesn't leave many seriously ill patients behind. Please visit TexasMarijuanaPolicy.org to get involved with the coalition — Texans for Responsible Marijuana Policy.

Please also subscribe to our free email alerts to stay up to date on the status of marijuana policy reform in Texas. If you are a current or former law enforcement official, patient, medical professional, or clergy member, please email us to learn how you can get involved.
Find us on social media and help us spread the word to your network!
---
Learn more 
2016 Texas Primary Voter Guide
Overview of Texas' Low-THC Medical Cannabis Program