Texas lawmakers consider broad range of marijuana policy reform bills
Last update: March 1, 2017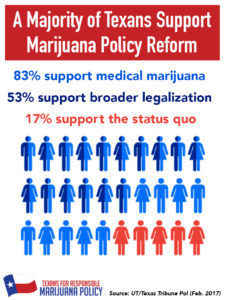 The Texas Assembly's last session in 2015 was groundbreaking — the state discussed marijuana policy reform like never before and passed what could become the foundation for a workable medical marijuana program. This year could be just as historic.
Meanwhile, Sen. Jose Rodriguez and Rep. Joe Moody have each presented bills that would impose a simple $250 fine for possession of up to an ounce of marijuana, but remove the criminal penalties that currently go with possession. Most Americans now support legalization of cannabis for adults 21 and over, and many states no longer force taxpayers to pay for the costs of failed prohibition policies, including arrest, possible jail time, suspension of drivers licenses, and harmful criminal convictions. Click here for more information on Senate bill 170 and House bill 81. For a summary of the sensible changes these bills would make, click here. Stay tuned!
Learn the status of all Texas marijuana policy-related legislation here.
---
Get involved with Texans for Responsible Marijuana Policy
MPP has begun a multi-year legislative campaign in Texas to improve state laws related to marijuana. We're working in concert with like-minded groups to reduce criminal penalties for possession and to establish a comprehensive medical marijuana program that doesn't leave many seriously ill patients behind. Please visit TexasMarijuanaPolicy.org to get involved with the coalition — Texans for Responsible Marijuana Policy.

Please also subscribe to our free email alerts to stay up to date on the status of marijuana policy reform in Texas. If you are a current or former law enforcement official, patient, medical professional, or clergy member, please email us to learn how you can get involved.
Find us on social media and help us spread the word to your network!
---
Learn more 
2016 Texas Primary Voter Guide
Overview of Texas' Low-THC Medical Cannabis Program