Pennsylvania Health Department announces first round of permits

Last update: June 30, 2017
On June 20, the Pennsylvania Department of Health announced the recipients of the first round of medical marijuana business permits. A total of 12 cultivation and processing permits were awarded, two in each of six designated regions. On June 29, 27 dispensary permits were announced. Fifteen of the recipients are already planning at least two locations, while the other 12 can later apply for additional locations. The state will have at least 52 locations spread across 27 counties.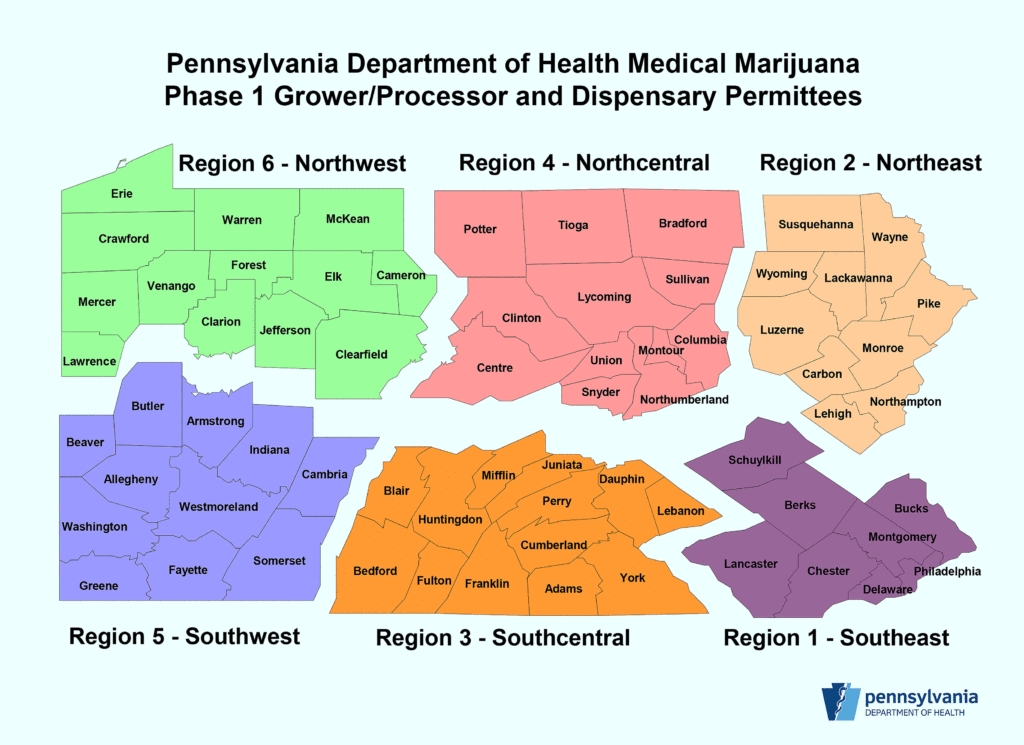 The department received approximately 177 applications for grower/processor permits and approximately 363 dispensary applications.
Act 16, the Pennsylvania Medical Marijuana Act, allows for up to 25 grower/ processor permits and up to 50 dispensary permits. The department is expected to issue additional permits after evaluating where additional medical cannabis access is necessary. If program implementation maintains its current pace, dispensaries should be able to begin serving patients in less than a year. The department recently released regulations for doctors, but has yet to release regulations for patients wishing to participate in the program. The registry for doctors will be available in July.
Thank you to the department for their tireless work to implement the program as quickly as possible! Congratulations to all of the patient advocates, lawmakers, and others who fought to make medical marijuana a reality for seriously ill Pennsylvanians.
For more information, check out the temporary regulations:
Temporary Regulations Chapter 1131: Safe Harbor Letters
Temporary Regulations Chapter 1141: General Provisions
Temporary Regulations Chapter 1151: Growers/Processors
Temporary Regulations Chapters 1141 & 1151 Annex A: General Provisions and Growers/Processors (Amendments)
Temporary Regulations Chapter 1161: Dispensaries
Temporary Regulations Chapter 1161 Annex A: Dispensaries (Amendments)
Temporary Regulations Chapter 1171: Laboratories
Temporary Regulations Chapter 1181: Physicians and Practitioners
January 7, 2017 Notice: Overview of Phase 1
January 7, 2017 Notice: Establishment of Medical Marijuana Regions
January 14, 2017 Notice: Notice of Adequate Temporary Regulations
---
Medical marijuana resources
MPP has developed a number of fact sheets for Pennsylvania patients, caregivers, doctors, and employers. Please print and share these materials with others, including your physician.
You can also learn more on MPP's medical marijuana page.
---
Decriminalization
On May 17, 2016, Rep. Ed Gainey, one of the lead sponsors of medical marijuana legislation in Pennsylvania, introduced HB 2706, a bill that would decriminalize the possession of marijuana. Currently, an individual arrested for possession of up to an ounce of marijuana can still be sentenced to a maximum of 30 days in jail and fined up to $500. Rep. Gainey's bill would reduce the penalty to a fine not to exceed $100.
This long-overdue change would dramatically reduce the number of Pennsylvanians who have their dreams derailed by a criminal record. A 2013 study by the American Civil Liberties Union found that although blacks and whites use marijuana at nearly identical rates, enforcement is far from equal: blacks in Pennsylvania are 5.2 times more likely than whites to be arrested for marijuana possession.
Localities in Pennsylvania are leading the charge for more sensible marijuana policies. Since October 2014, the local governments in Philadelphia, Pittsburgh, Harrisburg, and the State College Borough have each approved measures to reduce the penalty for personal use possession of marijuana to a simple fine. Our friends at the Keystone Cannabis Coalition have played a leading role in these reforms.
Tell your state legislators it's time the full Commonwealth follow suit.
---
Take action!
Stay connected:
To stay updated on the status of marijuana policy reform in Pennsylvania, be sure to subscribe to MPP's free legislative alert service now.
Take action:
Write your representatives and tell them to support the decriminalization of marijuana!
Contact us:
If you are a medical professional or a patient who might benefit from medical marijuana, or if you know somebody who might benefit from medical marijuana and you want to get involved, contact us at [email protected]. Please include your zip code so we can determine who your lawmakers are.
Additionally, if you are a doctor, veteran, law enforcement official, a person who was arrested for marijuana possession, or an attorney, please email [email protected] to learn how you can be of special help.