MPP to host canna-business seminar in Columbus
Last update: February 14, 2017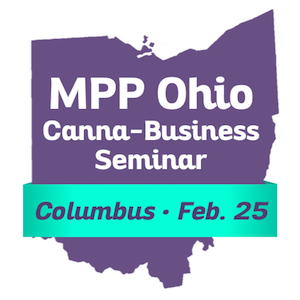 MPP is proud to present the Ohio Canna-Business Seminar on Saturday, February 25 in Columbus. Join us for a one-day, deep dive into Ohio's emerging medical marijuana program, including presentations by state regulators, business and cannabis attorneys, and experts from around the U.S.
We will present leading regulators from the Department of Commerce, and both the medical and pharmacy boards, who will talk about their efforts as they finalize rules for the emerging industry. We will also take a close look at the emerging regulations and how they might affect your business. Some of the largest cannabis businesses in the U.S. will be on hand to talk about their work and best practices for business. Finally, MPP's federal lobbyist will talk about the future of cannabis businesses under the Trump administration. If you plan to operate a medical marijuana business in Ohio, this is a must-attend event.
Some aspects of the program are positive and a sign the program will be a large one; others could present a problem for patients or businesses that do not plan ahead. This is a great opportunity to meet with experts, identify the challenges and opportunities, and get answers. Click here to learn more, and please join us in Columbus on February 25!
---
Marijuana laws in Ohio
Possession of less than 100 grams (or about 3.5 ounces), giving 20 grams or less of marijuana to another person, or growing less than 100 grams of marijuana are each considered  "minor misdemeanors," punishable by a maximum fine of $150. A minor misdemeanor is not a "jailable" offense, but a person's driver's license can be suspended for a period ranging from six months to five years.
While Ohio's marijuana penalties are less draconian than its neighbors, law enforcement officers are still wasting valuable time and resources. In 2012, Ohio officers arrested or cited 14,374 people for marijuana-related offenses, 94% of which were for possession only. At the same time, 91.6% of all reported burglaries — including home invasions — and 90% of all motor vehicle thefts went unsolved. Let your legislators know it's time law enforcement stopped wasting time punishing adults for choosing a safer alternative to alcohol.
---
Stay connected
Thank you for supporting the Marijuana Policy Project. To stay updated on the status of marijuana policy reform in Ohio, be sure to subscribe to MPP's free alert service.