N.H. House passes decriminalization bill in 318-36 landslide

Last update: March 9, 2017

Despite the repeated passage of decriminalization bills in the New Hampshire House of Representatives, the "Live Free or Die" state remains the only state in New England that continues to arrest and prosecute people simply for possessing small amounts of marijuana. Fortunately, that appears likely to change in 2017. For the first time in its history, New Hampshire has elected a governor, Chris Sununu (R), who is clearly on record in favor of decriminalizing marijuana possession.
HB 640, the bill that would decriminalize possession of one ounce or less of marijuana, passed the House of Representatives in an overwhelming 318-36 vote on March 8. If you live in New Hampshire, please contact your state senator and urge him or her to support HB 640 and other critical reforms.
For a detailed analysis of how a criminal record can have far reaching effects for New Hampshire residents, check our report, Marked for Life: Collateral Sanctions Associated with Marijuana Offenses in New Hampshire.
---
House approves bills to expand, improve therapeutic cannabis program
On March 8, 2017, the House approved several bills that would expand and improve New Hampshire's therapeutic cannabis law. HB 160, which would add post-traumatic stress disorder (PTSD) as a qualifying condition, passed in a 302-46 vote. HB 157, which would make cannabis a legal option for patients suffering from moderate to severe chronic pain, passed in a 301-47 vote. HB 472, which would allow qualifying patients and caregivers to cultivate up to two mature plants and 12 seedlings, passed despite having been voted down 14-7 by the House Health, Human Services, and Elderly Affairs Committee. The House voted 213-118 to overturn the committee's recommendation before passing the bill in a voice vote.
New Hampshire's therapeutic cannabis program was created on  July 23, 2013, when then-Gov. Maggie Hassan signed a bill allowing seriously ill New Hampshire residents to use cannabis for medical purposes.
A terminally ill lung cancer patient, Linda Horan, became the first patient to receive an ID card in December 2015 after she sued the state and won, and she was able to visit a dispensary in Maine to obtain cannabis legally. MPP was proud to have supported this lawsuit, and we are grateful to Linda, her attorney, Paul Twomey, and Rep. Renny Cushing (D-Hampton) for their efforts on behalf of all New Hampshire patients.
The first N.H. dispensary began serving patients on April 30, 2016, and the other three approved dispensaries opened in the summer of 2016.
You can read more about the program and access application forms at the department's website.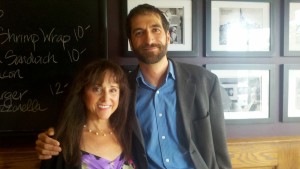 MPP's Matt Simon and former Rep. Evalyn Merrick — who sponsored
medical marijuana legislation — after the signing of HB 573 in 2013.
---
N.H. House makes history, votes to legalize and regulate marijuana

On January 15, 2014, the New Hampshire House of Representatives voted 170-162 to approve a bill that would legalize, tax, and regulate marijuana for use by adults in the "Live Free or Die" state. This was the first time any state legislative chamber has approved such a bill.
Unfortunately, then-Gov. Maggie Hassan said she would veto the bill if it reached her desk. "I just think it's the wrong message to send to young people," she explained. The bill failed to pass the House on a second vote after the governor's veto threat.
While some politicians continue to oppose sensible reforms, public opinion continues to turn strongly against the prohibition of marijuana. Three consecutive polls published by the University of New Hampshire Survey Center found that 60% of Granite Staters support legalizing marijuana.
Legislation that would legalize, tax, and regulate marijuana has been introduced for the 2017 session. HB 656 has been retained for study by the House Criminal Justice and Public Safety Committee, and SB 233 is being considered by the Senate.
---
Stay connected
Thank you for supporting MPP. To stay updated on the status of marijuana policy reform in New Hampshire, be sure to subscribe to MPP's free legislative alert service.