Florida becomes the 26th medical marijuana state!
Last update: November 9, 2016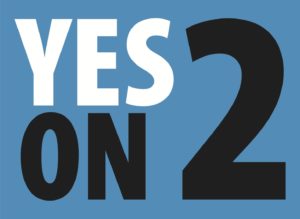 On November 8, 2016, Florida voters overwhelmingly approved Amendment 2, making Florida the 26th state with an effective medical marijuana law. Two additional states passed similar measures later in the evening, bringing the total number to 28.
Seriously ill Floridians will now be able to access medical marijuana in the form that works best for them. MPP congratulates United for Care, which led the campaign. MPP assisted with the campaign's fundraising and public education efforts, which helped ensure that despite the opposition spending millions on misleading ads, 71% of Florida voters supported compassion.
The amendment will require the Department of Health to regulate medical marijuana treatment centers, which would cultivate and dispense cannabis to qualifying patients who have been diagnosed with a debilitating medical condition and have a physician's certification and a valid identification card. You can read the amendment here or read MPP's summary here.
This victory is not the end of the effort, however. Because the initiative was a constitutional amendment, there are many issues that will be resolved through the regulatory process. Continuing efforts will help ensure that patients get convenient and affordable access to the medicine they need as soon as possible.
---
History of Florida's medical marijuana law
Prior the passage of Amendment 2, Florida had a flawed law that allowed a limited group of patients to access marijuana that was low in THC (less than 0.8%) and high in CBD. The first dispensary of low-THC cannabis opened in Tallahassee on July 26, 2016. The legislature expanded this law in its 2016 session by passing HB 307, which would have allowed terminally ill patients to access other forms of medical cannabis. A summary of that law is available here.
---
Decriminalization spreads across Florida
Since June 2015, a new trend has taken root across Florida — several cities and counties have passed similar ordinances that give officers the discretion to replace arrests for possession of under 20 grams of marijuana with citations. These jurisdictions include Miami-Dade County, Tampa, Key West, and Orlando.
While this is a positive sign, in some jurisdictions, payment of the citation could still result in a criminal record, and some police departments have said that they will continue to arrest everyone in possession of marijuana, so caution should be exercised. For more information, please see our summary of the measures.
---
Sign up now to stay up-to-date on Florida's marijuana policy
To receive news about Florida marijuana policy reform as it happens, be sure to subscribe to MPP's alerts, if you haven't done so already.