Task force report released, next stop is the legislature
Last update: April 3, 2018

In March, the Delaware Adult Use Cannabis Task Force voted to release its final report. Thank you to the co-chairs, Sen. Margaret Rose Henry and Rep. Helene Keeley, and all the members of the task force who have worked tirelessly to thoroughly review the issue before presenting their findings.
Legalizing and regulating marijuana in other states has created jobs, generated tax revenue, and increased tourism. It also attracts new businesses and makes the state more appealing to younger professionals, all while undercutting the illicit market. Considering a majority of Delaware voters support making marijuana legal, there is no reason for delay.
Now it is time to proceed with legislative consideration of HB 110, which would legalize, regulate, and tax adults' use of marijuana. Marijuana is safer than alcohol, and adults who choose the safer option should not be punished. Instead, they should be able to support Delaware's economy by purchasing safe, legal products from state-licensed businesses.
If you're a Delaware resident, contact your lawmakers today and ask them to support HB 110!
---
Coalition works to replace marijuana prohibition with regulation
A group of organizations, including MPP, have launched the Delaware Cannabis Policy Coalition. Check out our website and consider getting involved!
The DCPC meets monthly at the public library in Bear, DE. If you are a member of an organization that would like to join our coalition, we would love to hear from you. We are in the process of growing our network of supporters.
If you are a member or former member of law enforcement, active or retired military personnel, member of the clergy, economist, medical professional, business leader, or a victim of marijuana prohibition, and you support ending marijuana prohibition, please get in touch with us to see how you can be of special help.
---
Delaware's decriminalization law in effect

In December 2015, Delaware's bill to decriminalize marijuana possession took effect. HB 39, which passed the General Assembly and was signed into law by then-Governor Jack Markell, made possession of up to one ounce of marijuana by adults a civil violation punishable by a $100 fine with no possibility of jail. Possession of up to an ounce of marijuana was previously a misdemeanor punishable by up to a $575 fine and up to three months in jail. Please see our summary of HB 39 for further details.
This important step in marijuana policy reform would not have been possible without a lot of hard work. Many thanks to each of you who raised your voices or made a donation to help stop the cruel criminalization of marijuana consumers. A special thank you to Rep. Helene Keeley — the bill sponsor.
While decriminalization was an important reform, it is no substitute for regulating marijuana for adults' use. A $100 fine can be an extreme hardship to low-income residents, and decriminalization did nothing to take marijuana sales off of the sometimes dangerous illicit market. Don't forget to ask your lawmakers to support regulating marijuana.
---
Medical marijuana compassion centers open; more coming soon
Almost four years after the state's medical marijuana act was signed into law, Delaware's first compassion center opened in June 2015! First State Compassion opened to qualified patients on June 26, 2015 in Wilmington and opened a second location in Lewes in spring of 2017. Two more compassion centers are expected to open in Smyrna and Newark in spring of 2018.
The Department of Health continues to accept applications for medical marijuana ID cards, which will be required for patients seeking to obtain their medicine from a compassion center. If you are interested in obtaining your medical marijuana ID card, please visit the medical marijuana program's website or call them at (302) 744-4749 to receive application forms. If you have further questions about the medical marijuana program, please see our summary of the law.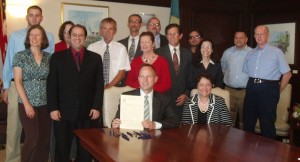 MPP's Noah Mamber and Karen O'Keefe in Dover with Sen. Margaret Rose Henry and several of the state's most committed patients to watch then-Gov. Markell sign SB 17, the state's medical marijuana bill.
---
Stay connected
Thank you for supporting MPP. To stay updated on the status of marijuana policy reform in Delaware, be sure to subscribe to MPP's free legislative alert service.