Bill to regulate cannabis like alcohol filed by lawmakers!
Last update: March 31, 2017

Unlike the eight states (plus the District of Columbia) that have ended cannabis prohibition in recent years, Delaware does not have a voter initiative process. That is why advocates have been working for years to urge their lawmakers to introduce a bill to regulate cannabis like alcohol.
Finally, all that hard work has paid off. On March 30, 2017, 14 Delaware legislators announced their sponsorship of HB 110, the Delaware Marijuana Control Act. You can check out a summary of the bill here.
An October 2016 poll by the University of Delaware showed that 61% of residents support the state implementing this reform. Now, it is up to the majority to contact their lawmakers and ask them to support this bill!
Because the bill will establish a new tax, it needs a a super-majority of legislators in the General Assembly to say yes to reform. That is why it is imperative you ask your representative and senator for their support. After nearly a century of prohibition, lawmakers are unlikely to take this step unless they hear from their constituents. Let them know that, like most Delawareans, you favor sensible marijuana policies that let adults make their own choices. The state should take marijuana out of the hands of criminals and impose responsible regulations while generating millions of dollars in tax revenue and creating hundreds of legitimate jobs.
---
New coalition works to replace marijuana prohibition with regulation
A group of organizations, including MPP, have launched the Delaware Cannabis Policy Coalition. Check out our website and consider getting involved!
The DCPC meets monthly at the public library in Bear, DE. If you are a member of an organization that would like to join our coalition, we would love to hear from you. We are in the process of growing our network of supporters.
If you are a member or former member of law enforcement, active or retired military personnel, member of the clergy, economist, medical professional, business leader, or a victim of marijuana prohibition, and you support ending marijuana prohibition, please get in touch with us to see how you can be of special help.
---
Delaware decriminalization law in effect

On December 18, 2015, Delaware became the 19th state to implement a decriminalization or legalization law. Six months earlier, Gov. Jack Markell signed HB 39, making possession of personal use amounts of marijuana a civil violation.
Introduced by Rep. Helene Keeley, HB 39 makes possession of up to one ounce of marijuana by adults a civil violation punishable by a $100 fine with no possibility of jail. Possession of up to an ounce of marijuana was previously a misdemeanor punishable by up to a $575 fine and up to three months in jail. Please see our summary of HB 39 for further details.
This important step in marijuana policy reform would not have been possible without a lot of hard work. Many thanks to each of you who raised your voices or made a donation to help stop the cruel criminalization of marijuana consumers. A special thank you to Rep. Helene Keeley and to Gov. Jack Markell for his leadership.
---
Medical marijuana compassion center open; two more coming soon
Almost four years after the state's medical marijuana act was signed into law, Delaware's first compassion center opened in June 2015! First State Compassion opened to qualified patients on June 26, 2015. The second in Sussex County is expected to open in Spring 2017, and a third in Kent County in the latter half of 2017.
The Department of Health continues to accept applications for medical marijuana ID cards, which will be required for patients seeking to obtain their medicine from a compassion center. If you are interested in obtaining your medical marijuana ID card, please visit the medical marijuana program's website or call them at (302) 744-4749 to receive application forms. If you have further questions about the medical marijuana program, please see our summary of the law.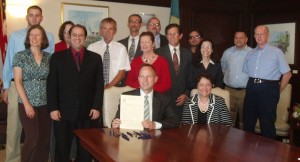 MPP's Noah Mamber and Karen O'Keefe in Dover with Sen. Margaret Rose Henry and several of the state's most committed patients to watch Gov. Markell sign SB 17.
---
Stay connected
Thank you for supporting MPP. To stay updated on the status of marijuana policy reform in Delaware, be sure to subscribe to MPP's free legislative alert service.