For three decades, Steve Hawkins has been at the forefront of the movement to advance criminal justice reform, working to advance civil and human rights as an advocate, policy strategist, nonprofit leader, and foundation executive.
Steve began his career as an attorney with the NAACP Legal Defense Fund challenging racial disparities in the criminal justice system, particularly where the prosecution sought to impose the death penalty on indigent African Americans. He then served as executive director of the National Coalition to Abolish the Death Penalty, where he led a bipartisan campaign to end capital punishment for juveniles, leading to repeal in several conservative states and ultimately a historic victory in the U.S. Supreme Court.
In 2008, Steve was named executive vice president of the NAACP, where he spearheaded efforts to end the New York City police practice of "stop and frisk," worked with leading corporations to remove obstacles to employment for formerly incarcerated persons, and engaged elected officials to restore voting rights to former felons. He also successfully encouraged the NAACP board of directors to adopt its policy in support of marijuana decriminalization. Steve continued working to address civil and human rights abuses in the United States as executive director of the American section of Amnesty International, the world's largest human rights organization. Under his leadership, the organization confronted police abuse in Ferguson, Baltimore, and other cities, and it spotlighted prolonged solitary confinement and other human rights violations occurring in U.S. prisons and jails.
Most recently, Steve was the president of the Coalition for Public Safety, the largest national bipartisan effort to reform the justice system at the state and federal levels. In this role, he oversaw campaigns to advance policy change through public education, engagement with government officials, and mobilizing stakeholders. He also fostered development of strategic alliances involving business leaders, law enforcement officials, scholars, faith leaders, victims' advocates and other key voices.
Steve gained invaluable experience in the field of philanthropy as a senior program manager at the JEHT Foundation, where he directed substantial investments of resources into advocacy efforts to end mass incarceration, including groups working to eliminate criminal penalties for marijuana possession and the targeting of communities of color for police drug sweeps. He also served as a program executive at the Atlantic Philanthropies, a key funder of successful lobbying efforts to repeal the death penalty at the state level and to thwart the erosion of privacy and individual liberties in the post-9/11 era.
Steve is a graduate of Harvard College and NYU School of Law. He clerked for the late A. Leon Higginbotham of the U.S. Court of Appeals for the Third Circuit.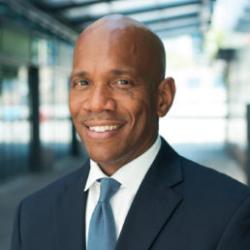 Steve Hawkins
Executive Director
Beginning Year: 2018