What is the "Club of 1,000"?
The "Club of 1,000" is a distinction that's reserved for the highest-level donors to MPP, MPP Foundation, MPP's federal Political Action Committee, MPP's state PACs in Texas and Vermont, and MPP's ballot initiative committees (such as in Arizona, California, Maine, Massachusetts, and Nevada).
Other than being on MPP's board of directors, the "Club of 1,000" is the highest distinction that a dues-paying member can attain within the organization.
Qualifying for the "Club of 1,000" means that either (1) you've donated at least $1,000 in one lump sum in the last 365 days, or (2) you're currently donating at least $100 per month on your credit card.
If you donate in either of these two ways, we'll mail you our exclusiv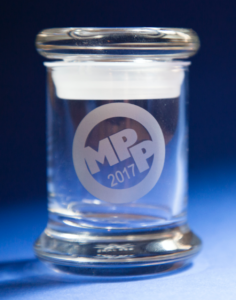 e membership gift. This gift is reserved exclusively for "Club of 1,000" members, i.e., there's no other way to obtain it.
This year, our friends and fellow "Club of 1,000" member 420 Science generously provided our exclusive gift: the "Club of 1,000" 420 Jar.
---
There are four ways to give:
 The following financial transactions do not qualify people for the "Club of 1,000":
purchasing tickets to special events (which basically means MPP's annual fundraising events in Los Angeles, New York City, and San Francisco);
purchasing corporate sponsorships for special events;
purchasing auction items at special events or on ebay.com; or
buying advertising space online.
If you prefer, you can make your donation over the phone or by mail. Simply call the number below, or print the donation form and send it to the address below. (If you donate by mail, you can also send a check or money order.)
MPP
P.O. Box 77492, Capitol Hill
Washington, D.C. 20013
PHONE: 202-462-5747, ext. *2020