Massachusetts Cannabis Control Commission hearings coming up
Last update: January 18, 2018
Mark your calendar because the Massachusetts Cannabis Control Commission is holding hearings on their draft regulations in a town near you. Check the Cannabis Control Commission website to check whether there is a hearing in your town.The hearings will discuss the commission's proposed regulations.
If you're available, your support would be welcome at a hearing. It is important that we show support for a well-crafted regulatory system that respects voters' decision to legalize marijuana in Massachusetts. Please be sure to dress professionally and, if you speak, be polite, accurate with any facts, and keep your comments brief.
If you can't make it to a hearing in person, you can submit testimony electronically by emailing [email protected]. Your testimony should include your full name and address and contain an attached Word document or text within the body of an email with "Draft Regulations" in the subject line. The commission will post all electronic testimony that complies with these instructions on its website.
---
Massachusetts governor vows to uphold recreational marijuana
Massachusetts Gov. Charlie Baker reinforced that Massachusetts will respect the will of Massachusetts voters. In response to Jeff Sessions' decision to rescind Obama-era rules that protected recreational marijuana markets, state and local law enforcement officials vowed that they would not raid retail marijuana establishments that were operating in compliance with state law.
Shortly thereafter, Gov. Baker echoed those sentiments, stating, "We have two laws in Massachusetts: One that was passed by voters several years ago around the establishment of medical marijuana dispensaries, which are regulated and overseen by the commonwealth, and another law that was passed by the voters in 2016 that requires the state to create a legal infrastructure for recreational marijuana. Those are the laws that state and local law enforcement officials are bound to uphold and that's what they're going to do."
Baker's statement is important because it represents a sharp break from Massachusetts U.S. Attorney Andrew Lelling who said in a statement he couldn't guarantee the medical marijuana dispensaries, recreational pot shops, cultivators, and customers would be immune from federal prosecution. We applaud Gov. Baker's statement and his principled stance against Lelling's regressive direction on legal cannabis that attempts to flout the will of the voters.
---
Legislative battle ends with compromise; implementation can now begin
Although Question 4 won a decisive victory among voters, it soon became clear that the law would need to be defended from interference by the Massachusetts Legislature, which quickly moved to make changes to the implementation timeline and other key aspects of the law. Sparking controversy, a small group of legislators met in a special, non-transparent legislative session during the final days of 2016 to delay the opening of marijuana businesses by six months. Throughout the 2017 legislative session, MPP worked both inside and outside the statehouse to defend the will of the voters from further legislative interference.
Fortunately, thanks to thousands of supporters making calls and pressuring lawmakers, the legislature ultimately discarded a flawed proposal from the House and instead passed a compromise bill that largely respects the will of the voters. Gov. Charlie Baker signed it into law on July 28, 2017.
The legislation's most significant changes to the original initiative relate to local control and taxes. The legislation adjusts the local control policy, allowing local government officials in towns that voted "no" on the 2016 ballot initiative to ban marijuana businesses until December 2019. For towns that voted "yes" in 2016, any bans must be placed on a local ballot for voters to approve. The maximum sales tax rate (which depends on whether towns adopt optional local taxes) will increase from 12% to 20%. Under the bill, the state tax will be 17% and the local option will be 3%.
The implementation law also:
Merges the medical marijuana market into the adult-use market;
Provides for medical establishments to transition from non-profit to for-profit entities;
Provides for virtual separation of medical and adult-use markets at point of sale;
Eliminates criminal offense for home cultivation by persons under 21;
Removes criminal penalties for possession of under two ounces for persons 18 – 21;
Provides for cultivation of industrial hemp;
Expands the availability of sealing of criminal convictions to all prior marijuana convictions;
Includes additional provisions for the benefit of farmers and craft marijuana cultivators;
Requires study on, and actions to achieve, meaningful participation by minority, women, and veteran businesses;
Establishes energy and environmental standards;
Addresses communities disproportionately impacted by high arrest and incarceration rates;
Provides for specific research agenda and baseline studies;
Provides for allocation of revenues generated;
Provides for indemnification of employees who, in professional capacity, carry out chapter 334;
Provides for recommendations to assist veteran access to medical marijuana;
Provides for special regulations to be promulgated for Cape Island counties;
Requires science-based public health and public safety awareness campaigns;
Establishes special commission on operating under the influence and impaired driving; and
Provides for licensure and oversight of independent testing laboratories.
---
Current marijuana laws in Massachusetts
Possession of small amounts and limited home cultivation are legal: Possession of an ounce or less of marijuana is legal for adults 21 and older. An adult may also cultivate up to six mature marijuana plants in their residence with no more than 12 mature plants in total per residence.
Retail marijuana stores are scheduled to open by July 1, 2018: State lawmakers and regulatory officials are currently laying the foundation for a regulated marijuana market. President of the Senate Stanley Rosenberg and other lawmakers have said publicly that retail marijuana stores will open in summer 2018.
Medical marijuana permitted: An individual may register as a medical marijuana patient if their doctor certifies that the individual suffers from one or more of the following conditions:
amyotrophic lateral sclerosis (ALS)
cancer
Crohn's disease
glaucoma
HIV or AIDS
hepatitis C
multiple sclerosis
Parkinson's disease
other conditions as determined in writing by a qualifying patient's physician
Patients are allowed to purchase marijuana from registered marijuana dispensaries (RMDs). A patient may also appoint a caregiver to cultivate and provide medical marijuana if they are unable to access a state-authorized dispensary or if they can verify financial hardship.
---
Historic victory: The 2016 Yes on 4 Campaign
Having played an important role in decriminalizing marijuana and legalizing medical marijuana through ballot initiatives — in 2008 and 2012 respectively — the Marijuana Policy Project and local allies began laying the groundwork for a 2016 legalization campaign in 2015. The Campaign to Regulate Marijuana Like Alcohol (CRMLA), as it was called, formed a drafting committee comprised of advocates, attorneys, and experts on marijuana businesses who wrote what would eventually become known as Question 4. The end product was a sensible proposal to end the failed policy of prohibition in a way that prioritized public health, safety, and social justice.
Will Luzier, a former Massachusetts assistant attorney general who also served as executive director of the Massachusetts Interagency Council on Substance Abuse and Prevention from 2008 until April 2015, was named as campaign manager. Jim Borghesani, who filled the role of communications director, previously worked in top communications positions in the offices of the Massachusetts governor and as a journalist. Matthew Schweich, MPP's national Director of State Campaigns, served as campaign director.
With the petition language written and able leaders at the helm of the campaign, the initiative was officially delivered to the attorney general's office in August 2015. The signature drive then kicked off in the fall. Thanks to the dedicated efforts of hundreds of signature gatherers, the Massachusetts Secretary of State validated 70,739 signatures submitted by CRMLA in December of that year, clearing the first major hurdle necessary to put the initiative on the ballot. Later in June 2016, the campaign would successfully summit the approximately 11,000 signatures necessary to put the initiative on the ballot.
CRMLA became the Yes on 4 Campaign in July 2016 when the secretary of state announced that the initiative had officially qualified for the November ballot. In August, a crowd of supporters gathered in front of the Massachusetts State House to announce the kickoff of the Yes on 4 Campaign.
Throughout 2016, the campaign focused on several core messages that reinforced why legalizing and regulating marijuana was a more sensible policy than prohibition. On St. Patrick's Day, for example, the campaign unveiled a billboard comparing the safety of marijuana to alcohol: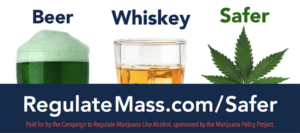 The campaign also aired several TV ads that highlighted the public health and safety benefits of legalizing and regulating marijuana, including one featuring retired police lieutenant Tom Nolan.
Along the way, the Yes on 4 Campaign picked up some major endorsements from prominent organizations including The Boston Globe. Additionally, politicians across the state — Boston City Council President Michelle Wu, Holyoke Mayor Alex Morse, and state legislators — campaigned in support of Question 4.
In the lead up to Election Day, hundreds of volunteers and student activists across the state dedicated their time and energy to support the Yes on 4 Campaign. Using cutting edge tools to assist with door-to-door canvassing and voter outreach, the campaign mobilized a robust get-out-the-vote effort.
Ultimately, Question 4 prevailed on November 8 with 53.6% of the vote, winning in the vast majority of cities and towns across the state. In December 2016, when the election results were officially certified, possession and cultivation of marijuana became legal for adults in Massachusetts, and the process of establishing a regulated marijuana market was underway.
---
Timeline of marijuana policy reform in Massachusetts

2008 – Voters approved a ballot initiative decriminalizing possession of small amounts of marijuana
2012 – Voters approved a ballot initiative legalizing medical marijuana for patients suffering from serious health issues
2016 – Voters approved a ballot initiative legalizing marijuana for adults and establishing a regulated marijuana market similar to alcohol
---
References

Full text of Question 4 ballot initiative
Information on Massachusetts' medical marijuana program
Current status of all registered marijuana dispensaries
The War on Marijuana in Black and White: A Massachusetts Update